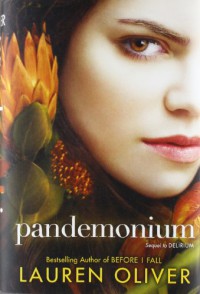 One spoiler, but come one, like you weren't expecting it.
Pandemonium, called the "Most Awaited Book of the Year" was absolutely amazing! As the sequel to Delirium, one of my favorite books, I was a bit afraid to read it. I mean, no Alex!? Crazy! It's just not possible to make Pandemonium as good as Delirium with no Alex! Was I ever wrong. If possible, Pandemonium was even better than Delirium…except for Julian. I absolutely hate Julian.
Lena's struggling to remove Alex from her memories, but that's pretty hard to do when she was in love with him. Now, she's an Invalid. Pretending to be a citizen. A spy! That's what Lena is now, and there's no turning back. Especially when in the middle of a ceremony, "Invalids" (the bad ones) raid the place and take her hostage as well as one other person named Julian. And maybe, maybe, she just falls one more time. Life for Lena is getting tougher and harder by the second.
Pandemonium switches between two different times, "then" and "now" and as confusing as it seems, it really wasn't. The "then" chapters gave you more information on how hard it was for Lena to let Alex go. He was dead. Gone. But I couldn't help wishing otherwise. I mean, if you've read Delirium, you have to love Alex! He was sweet, strong, protective, and definitely sacrificing. Who couldn't love him? But when he…no. Just no! I was with Lena all along the way as she struggled with the nightmares that came to her, and the memories that haunted her. I loved Lena. She was strong in her own way, she stood up for herself, and she now realizes the lies she had been fed her entire life. In other words, she's a great heroine. Not one that has always been strong, but someone who learns the hard way, what it really means to love, to fight for it. Seeing (or reading) Lena go back to her society with a new view on things made you realize how blind humans can be when told the right lies at the right times. How as long as we are safe, we won't care as much.
We meet new characters, Raven, Julian, and really? I didn't like either of them. Raven, because although she's been through much, she's hardened so much that she's like stone. Barely anything can penetrate the wall she's built, and no one can go in. Julian because well, Alex! I couldn't believe it when Lena fell in love with him! It was just…shocking to say the least. The difference between Alex and Lena and Julian and Lena was that now, Lena was the Invalid pretending to be someone else, teaching someone what love truly means instead of Alex.
The writing was as good as Lauren Oliver's other books. Her writing was like thoughts, a journal, not like someone was actually recording every little thing, smell, touch. It just made Pandemonium more enjoyable. The writing, the plot, it just pulls you in until you can't breathe, can't sleep. Lauren Oliver has done it again with Pandemonium and I'm not even sure where she's going to take Requiem. There are many different directions the story can go. Which one will she pick? With an ending like Pandemonium had, there's no way that readers will lose interest. It was fast-paced, adventure-filled, and romantic at all the right levels. Some questions will be left unanswered, others will make you gasp or scream. Pandemonium will leave you at the edge of your seat, willing for everything to be okay.