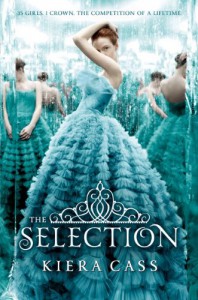 I got this ARC in the mail in a blogger trade and I absolutely loved every minute I spent reading it! The blurb, cover, writing, plot, well it all equates into one of the best books of 2012!
What the blurb above does not mention, however, is that before America Singer (add an n at the end of her name. She even sings all the time!) heads off to the castle, Aspen breaks her heart. Of course, he didn't mean to, but he feels guilty that he can't provide for her, that she's providing food for him when it should be the other way around. Oh, Aspen. But that's when my opinion of him went down. I mean, he didn't exactly try to make things work. He. Gave. Up. I'm sorry Aspen, but you should've tried harder if you really loved her.
On the other hand, America is most likely one of my favorite heroines. She wasn't especially different in any way. She cried over Aspen, but not pathetically so, and stood tall 'n proud when she was leaving. Not every normal girl can do that. Especially not when she's about to (unwillingly) compete for the heart of a Prince. She was a character that many of us girls (and some guys) can relate to. America is definitely one of my favorite characters in The Selection.
Onto the writing. The writing was wonderful, descriptive where it needed to be, and vague where it should've been. We, at least I, could feel America's sorrow and her hesitance. I could imagine Celeste's angry face and her nails ripping at the dress. It was dramatic and funny, witty and smart and I adored reading about everything that was going on! However, the dialogue was cheesy and very, very cliche. Sometimes I just stared and the phrase "She said that? You're kidding me! She actually said that!"
The Selection has been called "The Bachelor meets the Hunger Games" and I think that's true. Many of the things that happened did, in fact, happen in the last season of "The Bachelor" and yes, I do watch that show. Celeste? Courtney. Maxon? Whatever his name is (Ben? I'm not sure.) I mean, Celeste did pretend to be another person just as Courtney did in the show. Basically, much of the book was similar to that season.
Summary: Though The Selection does have its bad moments, the good overrides the bad. It was a fun, magical read that made me remember the fairy tales of old. Princesses, Princes, love triangles, they all figured into The Selection and I loved it for that! It was beautiful in (almost) every way.
Pages: 327
Series: The Selection Trilogy #1
Genre: Romance/Dystopia
Rating: 4 stars