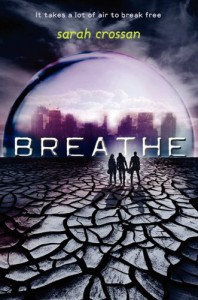 Breathe is an incredibly ironic title. Throughout this entire book, I couldn't breathe! It was incredibly depressing and touching, reading Breathe! I'm starting to feel like all the dystopians this year are going to have the same effect on me: stunned, on the edge of tears, and knowing it's an amazing book. 2012 really does have some of the best books ever. And especially Breathe. I had no idea what to expect! I knew Breathe would be original. I mean, an air shortage? Having to buy oxygen? It just caught my interest immediately. And…it may have something to do with the stunning cover.
Plot
Like I said! This was definitely one original plot and world. It was full of twists that made me cringe or stare and after a while, I just quit trying to guess what was going on. It was just too hard! With tyrannical leaders, a shortage of air supply, the spark of a rebellion, and the start of a civil war, there's no wonder you never get bored! It was fast paced, but I honestly wanted to punch someone. So. Many people. DIED. Agh. But I have to admit (grudgingly) that not everyone can do that. So props!
Romance
Heads up, there wasn't a love triangle at all! Thank goodness! The romance was slow, sweat, and steady! It was so…lovey-dovey and thankfully not insta-romance! (Finally, authors are seeing how much we hate it!). Sarah Crossan basically crossed out all the romance-type stuff we hate like love triangles and insta-love and turned it into one that we'd enjoy!
Characters
Bea:
Bea was definitely my favorite character out of all three. She was empathetic and she was incredibly loyal. She saw the best in people and instead of making her weak, that trait made her seem stronger and more defiant than Alina could be. Bea was one of those quiet, shy good girls who always accepts and follows the rules until she meets Alina, who she warms up to even if the guy she loved liked her. Like I said, Bea could see the best in people. Bea is one of the smartest characters ever and she was brave enough to take a stand against the people she's feared and listened to her entire life.
Alina:
At first, I really didn't like Alina, but she did grow on me. She just seemed insanely cruel and cold to Bea and Quinn, but after a few chapters from her POV, I realized that she wasn't as cold as she seemed to be from someone else's view. She lost the guy she loved because she liked him and wanted to be with him and that tends to turn someone cold. She had all these complexities in her life being a Rebel member and I realized that Alina didn't want to be the bitch excuse the language!) of the story either. She just couldn't let anyone else in.
Quinn:
I definitely thought Quinn was the bravest character. He's grown up in a luxurious life with as much air as possible and has trusted the government his entire life. But the things he discovers with Alina and Bea contradict all that and new sides of everything he's known are revealed. And he's still enough to face them with lies, not flinching. Now that takes guts. He was caring, but he did annoy me when he agreed with Alina because she was a pretty face even when he really disagreed with her. And that fact that (ROMANCE SPOILER) it took him almost dying to realize Bea was the right one for him did annoy me as well. Just a tad.